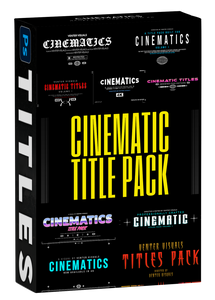 40 Cinematic titles designed to bring creative styles to your edits. Customize each title template in Photoshop and tweak to your liking. Easily import the titles into your preferred editing software and place above your footage.
CAREFULLY CRAFTED TITLES FOR CINEMATIC VISUALS.
After extensive research and design, I am proud to offer 40 professional title templates that seamlessly blend video editing principles like contrast, repetition, alignment and proximity.
It is my mission to make the life of fellow videographers simpler by enabling access to high-quality assets they can use in their projects with maximum speed and efficiency.
This particular pack serves as an ideal starting point for crafting captivating titles which will bring your edit quality up a notch! A walkthrough guide comes free with every download; this way you'll be able to create perfect sequences right away.
Try for free by downloading the Free Visual Pack.
- Elements organized into folders.
- Customize text, color, size, placement, and more.
- Professional layouts using industry standard design principles.
- Pack is updated annually and you will recieve updates free of charge.
- Designed for video editors looking to add another creative element to their visuals.
- Increase your brand quality with these 4K titles.
- Instantly hook your viewers attention.
- Save templates and easily create new looks.
- Stop worrying about creating titles from scratch.
- Learn how to use the pack and tweak to taste.
- Instant inspiration to give your video edits a vibe.
- Increase your understanding of design principles.
- Create your own custom titles using the icon sheet.
Get your project off to a great start with 40 professionally designed title templates!
So you can rest assured that adding titles will elevate your production quality in an instant. Many creatives have also used this pack for graphic design projects ranging from album art, logos, even commercial work.
The download includes easy-to-follow steps so you get it just right -- no need for complicated processes or prior editing experience necessary.
Try before investing by getting our Free Visual Pack today!