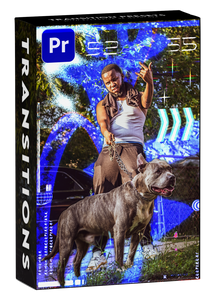 30 Premiere Pro transition presets
30 Unique overlays developed with 4K quality
Use on music video edits, creative edits, and more.
Overlays are .MP4 files
Transition presets are for PREMIERE PRO ONLY.
TRANSITIONS DESIGNED FOR HYPE.
- 30 Brand new overlays designed for movement.
- Carefully crafted in 4K quality.
- Designed to work with presets but can be used without.
- Simply drag and drop them on the video layer above your clip.
- Adds small details to overall edit to give more stylistic feel.
- Overlays work with all video software.
- 30 Amazing Premiere Pro transition presets.
- Simply drag and drop on top of your clips.
- Presets can also be used on static elements like text.
- Designed for video editors looking to step up their visuals game.
- Increase the quality of your edits in seconds with this pack.
- Enjoy the creative process without worrying about the technical stuff.
EDIT VIDEOS FASTER WITHOUT SACRIFICING QUALITY.
- Learn how to use the pack before buying.
- See real time examples of the transitions in action.
- Discover new styles and unlock new lanes of creativity.
- Speed up your workflow and pump out dope projects.
- Witness how fast this pack can take your edit to the next level.
- This bundle was designed meticulously using Premiere Pro and After Effects.
- Overlays work with any video software, presets for Premiere Pro ONLY.
- Once installed, using presets is easy.
- Simply cut the end of one clip, and the beginning of the next.
- "Nest" those cuts together so they combine into one clip.
- Drag and drop your preffered transition preset onto your nested sequence.
- Tweak keyframes, color, speed and more.
- Build your creative vision within seconds.
- Compatible with both 4K and 1080 footage.
- Take your visual edits to the next level.
- Add energy and movement to your videos.
- Easy to follow install guide included.
- Quick and easy installation.
- Works best with 24fps timelines.
- Combine transition presets and overlays for custom looks.
- Breathe life into your videos within seconds.